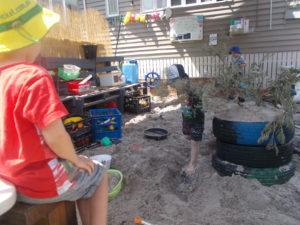 Our Senior Kindergarten programme is aligned to the Queensland Kindergarten Learning Guidelines to ensure adequate learning through play-based curriculum. Our activities are delivered to enhance and guide your child's learning, drawing upon their emerging interests and experiences they may have had within the room, their house or from parent input. Our daily programme approach is flexible so that we can cater for each child's needs and wishes and is available for parents' perusal at any time.
Each day you are informed of your child's activities through a day book and photos displayed. We update regularly via email and we provide a portfolio at the end of the year.
Our Kindergarten program is lead by a highly experienced Early Childhood Teacher.  The children love her program, it is creative and inspiring and varies on a daily basis according to the children's interests.  She uses a lot of "loose parts" and nature play to integrate learning into the children's day.  This also helps teach the children life skills like co-operation, sharing and empathy toward others.